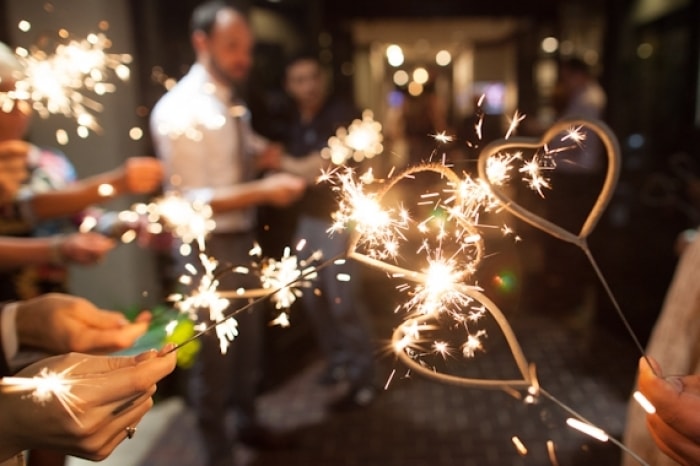 Where to Buy Sparklers for a Wedding
With so many couples using sparklers as part of their wedding, it's easy to imagine that finding where to buy them has become a major concern. Not every store sells sparklers, so finding them when your wedding date is approaching can be a major task. However, there are a few places that you can shop that will always have wedding sparklers in stock so you can get them on short notice.
It is, however, important to keep in mind that you can't just buy any old sparklers and use them at your wedding. In order for them to be safe and smokeless (which allows you to use them indoors), they must be actual wedding sparklers. With that in mind, here are a few options of where to buy sparklers for a wedding to make your search simpler.
Bridal Shops
The first place you can look for wedding sparklers is at your local bridal shop. Most national wedding shops like David's Bridal will have a vast selection of wedding favors, and sparklers for use at your wedding should be included in that mix. However, your options are going to be relatively limited and they'll only have a few sizes to choose from, so a bridal shop is not your most ideal location to find them. Additionally, they will be much more expensive at a bridal shop than other locations because the store specializes in wedding favors. Nevertheless, if finding them quickly is your primary concern, your local bridal shop should stock wedding sparklers year-round.
Fireworks Store
Any fireworks store will have a great selection of sparklers, but not all of them will carry sparklers that are specifically made for weddings. Assuming your local fireworks store carries actual wedding sparklers, you should be able to get a pretty good price on them and have several sizes from which to choose. However, the problem with relying on a fireworks store for your wedding sparklers is that they are usually only open for a very short period of the year, and unless you plan ahead or have your wedding date sometime in July, it may be hard to find one that is open.
Shop Online
The most reliable option that you have is to shop for your wedding sparklers on the internet. Shopping online is always the least expensive option, and you will always have the largest possible selection from which to choose. This is particularly useful if you want a hard-to-find size like 36 inch wedding sparklers because they are never stocked at bridal shops and rarely found at fireworks stores. The only downside with shopping online for your wedding sparklers is that you'll need to account for shipping time when you order; and though it's usually only a few day, it's not as fast as going to a physical store where you can buy them on the same day.
Wedding sparklers can bring you a lot of joy on your wedding day, but you need to know where to shop for them. If you're in a hurry, you can check your local bridal shop or fireworks store; but the best place to get them is to buy shopping online. In short, the amount of time you have left before your wedding day arrives will be the chief determining factor of where to buy sparklers for a wedding.