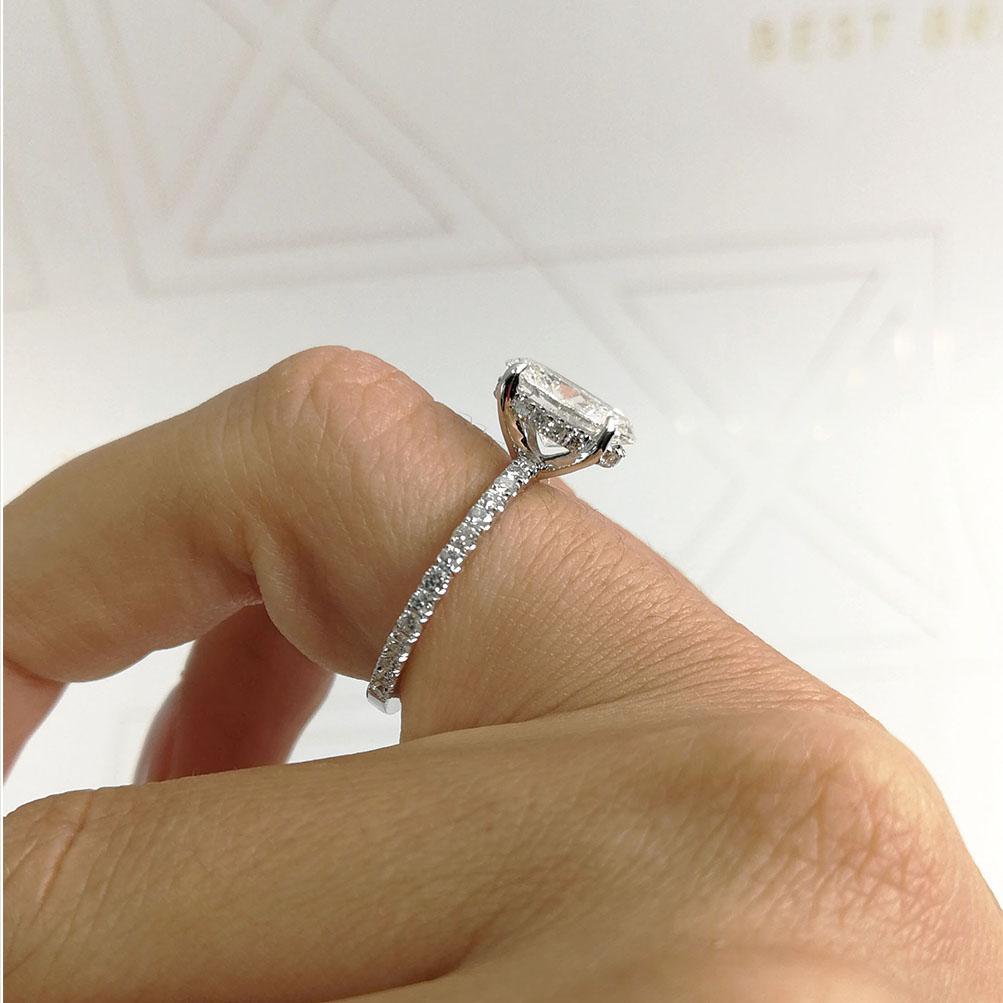 What an Engagement Ring Design Says About Your Relationship
Looking for the perfect engagement ring is a daunting and sometimes overwhelming task. With so many styles, stones and settings to choose from, it's difficult to know where to start, especially if you are buying it alone for your partner. The engagement ring should symbolize the love between you both, suit your bride-to-be, be on a budget and be practical for a lifetime of wearing.
If you are buying alone, try to get an idea of what style preferences she has; is she vintage loving, art deco obsessed or will a classic timeless design suit her best? Take note of the jewelry she already owns to look for clues and keep vigilant when you're out shopping as she may drop hints.
Here are some of the most popular styles that can start your search for the perfect engagement ring.
A classic solitaire diamond is timeless and one of the most popular styles of engagement ring for good reason. A white diamond is classic so be sure of your budget and the 4 Cs rule of diamonds so that you can choose the right stone for you. The setting and the cut of the diamond is your decision, so go with a design that best reflects the wearer's personality. Don't forget that a solitaire can be set in white, yellow or even rose gold or platinum. For more sparkle, how about a band with inset diamonds or for a more modern ring, consider twisted bands or a bezel setting which sees the diamond set into the metal rather than held in prongs.
Set in your choice of metal, with your choice of stones, a three stone ring is another classic. The central stone is often larger than the two either side but can be three stones of the same size. Choose colored gemstones or stay classic with three diamonds.
If sparkle is the style you're after then a cluster ring could be just the thing. This style sees lots of small diamonds clustered together in a setting that can be modern or vintage. For a simpler design; a halo ring with the center stone surrounded by a frame of smaller stones gives an extra element of sparkle. For real bling, a double halo surrounds the center stone with two circles of diamonds.
A setting that features small stones set into the band, around the sides of the ring or even in the main stone setting itself can be a great way to add something unique to the ring. Engagement rings by Tacori feature a half crescent of diamonds set into the band and specialize in settings that feature embellishment in the stone's shoulders and mount.
This is just a snapshot of what is available, but once you are familiar with the styles on offer it will become easier to recognize a style that both you and your partner will love.