Top 5 Summer Fashion Hacks For Curvy Girls
For most plus size women, finding the right type of clothing is always an issue. Well, this issue is bigger when it is about summer clothing. Now, what exactly is wrong in wearing some cool and cute dresses? Are light weighted and short dresses only for thin and skinny girls? Not at all… Here we have discussed a few fashion hacks for curvy girls. These are basically some simple tips which will help you get through these summers easily.
Summer clothing tips for plus size girls
Select the right material: Going for breathable fabrics for summers is the best pick. Compared to synthetic materials like polyester, materials like cotton will help you stay cool and dry. Also, if you sweat, a breathable material won't stick to your skin and prominently show your curves.
Try loose halter tops and high-low hemline dresses: Compared to tight tank tops, put on a cute and stylish halter top. This will avoid underarm chafing and allow them to breathe as well. Next, a high-low hemline dress gives you an opportunity to show some leg, but it won't ride up because of your booty like a short dress might do. You can easily get some stylish halter tops and high-low hemline dresses at well-known online stores like 310 Rosemont.
Try wearing some biker shorts: Chafing is a common issue with curvy females. However, for this reason you can't simply stick to pants all the time. Well, here is a simple trick – biker shots. Even if you are applying moisturizers or any sort of anti-chaffing formulas, they aren't going to last for the whole day. On the other hand, wearing some shorts under a cute dress will prove to be a life saver.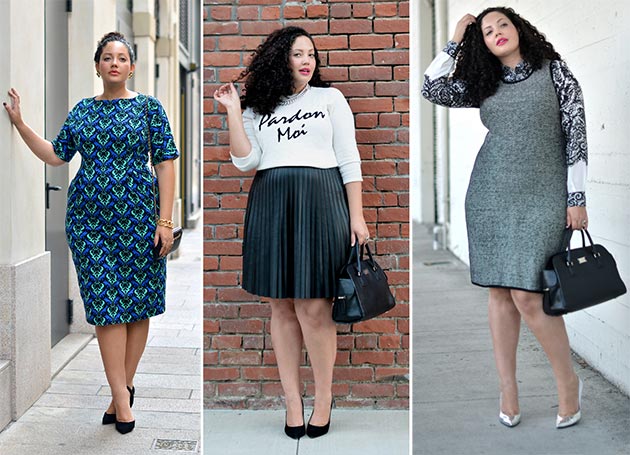 Simply use a Mock Camisole and avoid an extra layer: It is quiet understood that low-cut neckline dresses and tops are suitable for women with big chest. Well, in order to cover up your cleavage wearing a camisole seems like an ideal option, but don't you think adding one more layer of clothing will simply make you feel hotter? Of course it will. So, why not try a Cami Secret Clip-on Mock Camisole. It is easy to use and pretty comfortable.
Wear minimum jewelry: Well, heavy weighted and bulky jewelries just aren't for summers. Try adding some light and cute jewelry to your summer dresses. You can try wearing some long earrings or rings. Also, your rings may seem normal when you wear them in morning, but as the day passes, because of heat it might get tighter. Well, for this, it is recommended to wear adjustable rings which stretch if needed.
Lastly, don't make a dos and don'ts list for yourself. Just wear whatever you think you can carry well and will be comfortable for the hot weathers. Remember, the more comfortable you are the more good you will look.