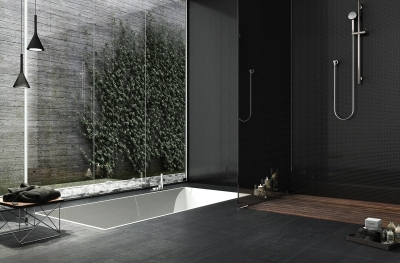 The Five Aspects to Think about before Purchasing a Shower Enclosure
If you're thinking about installing a shower enclosure in your bathroom, then you're bound to make a great choice – the shower is not only the cleanest way of bathing, it also saves a lot of space, allows you to save time (both in bathing and maintenance or upkeep) and money (in terms of water consumption), as well as become more efficient and green. However, there are many different types of shower enclosures to choose from on the market, and selecting the right one is not always that easy. If you're not yet sure on what would fit you and your family best, then this one's for you: here are the five aspects to think about before purchasing a shower enclosure.
Checking your available space
Space is usually the main issue in any bathroom – and since UK bathrooms are notoriously known for being small, it's usually the foremost concern for most UK residents. Check the available space and decide first of all whether you'd like to install a shower enclosure, a walk-in shower, or a shower bath. It helps to draw the plan on paper. When doing so, don't just mention the width and length, but also the height of the proposed enclosure.
Relative location
Will the enclosure or cubicle be situated near a window or near a door? Where are the plumbing outlets and how is the electrical web organised? These things have to be sorted out; either you go for the convenient option or be willing to make adjustments on a larger scale.
What glass you should get
There are several types of glass available, usually defined by thickness and strength. On one end of the spectrum you can save on budget, on the other end are benefits of style and safety. Consider them carefully.
Thinking of a tray?
The type of tray will decide both the dimensions and the materials of the enclosure. Remember – you don't necessarily need a tray.
Tiling choices

This will be a matter of beauty, but make sure the tiles are anti-slip and easy to maintain and clean. On the other hand, you can go for a completely pre-made, ready-to-install shower cubicle, which saves you the trouble of deciding on tiling, shower trays, and more, since everything is already included.
There's one more thing to think about when you're selecting the right shower enclosure for you: should you choose left or right hand fitting? Since most people are right-handed, the most common choice would be right hand fitting. However, there are some reasons why you might want to opt for left-hand fitting even if most members of the family are right-handed; for example, limited space or the position of the cubicle relative to other doors or windows might make it more convenient to go for the left-handed option. Draw your plans carefully, and choose wisely.
Image attributed to Eloisa Conti/FreeDigitalPhotos.net
http://www.freedigitalphotos.net/images/minimal-bathroom-design-photo-p486970