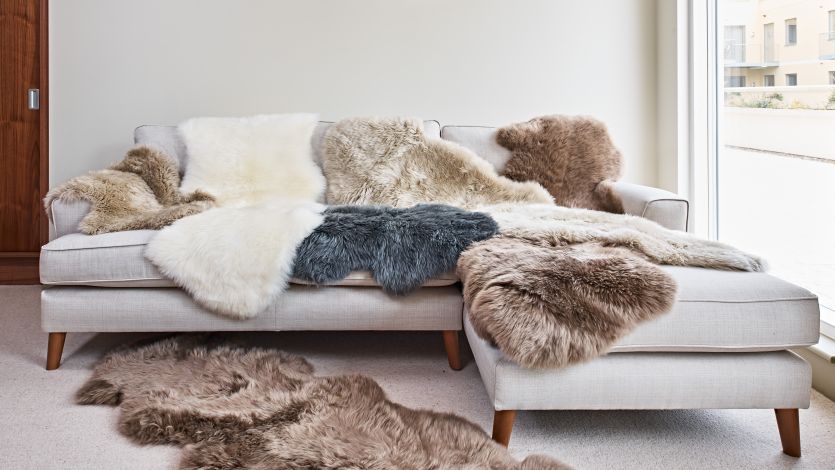 Sheepskin is one of the most unique fibers in the world. It has many qualities that make it one of the absolute best materials one can buy. Its versatility is unparalleled.
What is sheepskin?
Sheepskin is made up of a sheep's leather skin on one side and its wool on the other side. This gives the wearer the benefit of being cool in the warmer months and warm in the colder ones. Sheepskin's fibers breathe to behave like a thermostat for a sheep, which means a person wearing it will not get too hot or cold. The fibers are also hollow, and extremely absorbent, which means it will keep you dry even in rainy weather.
One of a Kind
Sheepskin is one of the strongest fibers in the world. A sheepskin article of clothing is very durable, usually lasting for many years, with low maintenance. Just a light brushing, shaking, or vacuuming is all that is typically required. Sheepskin is such an original kind of material that it cannot be synthetically duplicated. It provides a number of useful qualities to the wearer.
The wool of sheepskin will not shed because of how it is fixed to the leather.
It is wrinkled and snag-resistant, and retains its shape.
Sheepskin can be scuffed or roughed up without showing much wear.
Most kinds of sheepskin can be washed in a machine without any damage to the fiber.
Sheepskin is flame-resistant and waterproof.
Eco-Friendly
A good sheepskin company can produce quality sheepskin that can be tanned naturally without the use of harsh chemicals, such as arsenic, syntans or formaldehyde. Additionally, natural sheepskin can be produced using only a fraction of the energy that it takes to make synthetic sheepskin. This saves time, money, and energy, producing a product that is more durable than those that are man-made.
Sheepskin is biodegradable, which means that it won't just sit around for hundreds of years after it has been disposed of.
Stylish and Comfortable
Sheepskin has a rich, luxurious look and feel that adds to the ambiance and character of any home. A cozy throw rug or welcome mat offers an inviting touch to an entryway or living room.
Even the colors provide more variation than you think, with some sheep breeds offering fluffy white, ivory, oat, neutral, or brown shades, which provides more options for interior decorating. A sheepskin company will usually have many great ideas for home decor conveniently displayed on its website.
Extremely versatile
Sheepskin can be incorporated for a wide range of uses. Not only is it a first choice for throw rugs, welcome mats, and pillows, but it is used for many different types of apparel. These include slippers, coats, gloves, hats, caps, scarves, handbags, and purses, which come in a variety of colors and styles.
Medical uses
Sheepskin is good for those with various medical needs. It is ideal for someone who spends a great deal of time in a bed or wheelchair Sheepskin has been found to prevent or reduce the likelihood of bed sores. Some sheepskin companies produce medical wheelchair pads, lumbar pillows, crutch covers, and compression wraps made of sheepskin, which have been used in medical facilities, like hospitals and nursing homes, for several decades now.
Baby needs
Research has shown that babies are happier, sleep more peacefully, and cry a great deal less with sheepskin blankets and mattress pads. It is also helpful that it is antimicrobial, hypoallergenic, and conforms to baby's body, which increases blood flow to the body and aids in a more quality sleep.