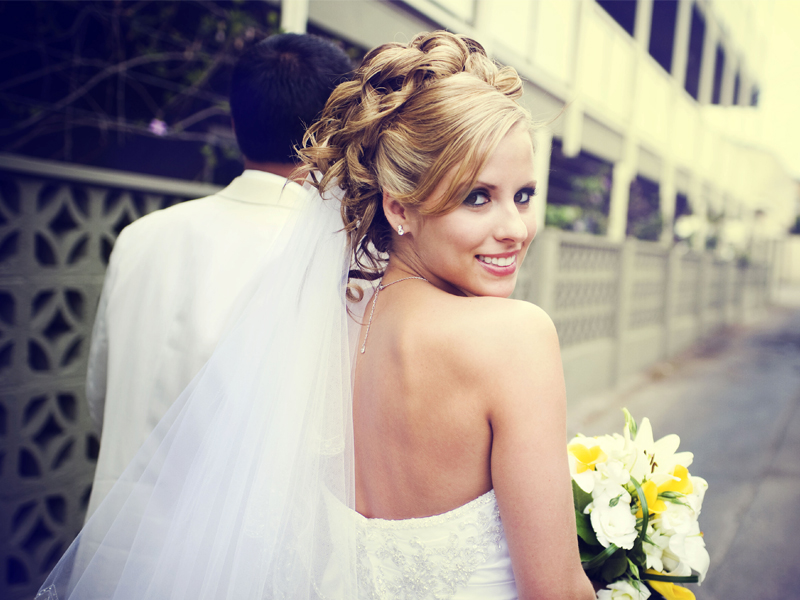 Choosing the Perfect Wedding Day Accessories
There's a lot to prepare when it comes to your wedding day. You have to create a menu and hire a caterer to put the food together. You have to find a venue or two to host the big event. You have to purchase and put together the perfect flower arrangements for you and your bridesmaids, as well as for the tables.
Not only do you have to do a lot of planning and prep work for the event itself, but you also have to focus in on you, what you want, and how you want to look when the big day rolls around. Will you choose a bodycon dress or a ballgown? Do you want to wear your hair up or down? There's a lot of details you have to consider and decide on to get yourself made up.
Even after you've decided on how you want your hair, what kind of dress you want to wear, and spent hours searching for and trying on gowns until you've found the perfect one, there's more you'll have to think about. For example, even after you've found the wedding dress, are you all set on accessories? Believe it or not, there's a lot of thought and effort that will go into your wedding day look, even if you want your look to be effortless. If you're having trouble narrowing down and choosing the perfect accessories for your dress, here are some tips to help you along:
Hair
There are a lot of different hair accessories that brides consider for their big day. From tiaras to veils or flower crowns to hair clips, the options are endless and it may be difficult to choose. Veils are a classic accessory that everyone thinks of when they think of the bride, and if you want to go the traditional route, then a veil will be a great accessory for you. Not all veils are the same, and not all veils go with all dresses, though.
If your dress has a lot of beading and embroidery, a simple veil is the best way to go; however, if you've got a fairly plain, (but still beautiful), dress, then a veil with ornate decorations is a great option. Be sure that your veil and dress color are perfectly matched, or it will likely draw the attention of the crowd.
If a veil isn't the best accessory for you, there are still other options you can choose. Whether you want a crown of flowers or a jewel-studded clip, you can add your personal flair to your hair. Remember, though, that flower crowns and ornate clips both tend to draw a lot of attention and they may be slightly too distracting if you pair them with an ornate dress.
When making your decision about accessories for your hair, don't forget that it's not required and you can let your hair be its own accessory if that's what you want.
Jewelry
When it comes to choosing jewelry to wear on your wedding day, there's a lot more to consider than the jewel or gemstone. For example, the color of the metal the jewelry is made out of can have a big impact depending on the color of your gown. While white gold and silver can accent white dresses, those tones will clash with an ivory dress. Rose gold and yellow gold are a better option for off-white and ivory gowns.
It's also important to remember that less is more. While you may want to wear a big, sparkly necklace, dangly earrings, a veil with a tiara, etc. all in addition to your dress that's embroidered with sequins and jewels, your whole ensemble will be quite a distraction. If your dress itself is ornate, keeping your jewelry to a minimum is a good idea. Don't overdo it—remember that you and your soon-to-be spouse are the main focus of the day.
Etc.
In addition to jewelry and hair accessories, there are some other unique accessories you might consider throwing in. If you're getting married during the winter, for example, you might be considering a cape or shawl to keep you warm but still look fabulous during an outdoor photo shoot and between venues. If you want to add some color, then tying a sash around your waist is a great way to do that. The key is to make sure that it's not overdone. Consider your dress and the other accessories you plan to wear, then consider whether or not adding an extra will finish it off or push it over the top.
Final Thoughts
As simple as it may seem, when you get into it, finding the perfect accessories for your wedding day can be hard to do. From choosing the right jewelry metal to making sure you wear the proper veil, choosing accessories can feel complicated. However, keeping things balanced and remembering that more is less can help you accessorize perfectly and feel confident on your wedding day.
Which accessory do you have to have for your big day?